There are plenty of countries carrying the 'must-go-to' lable. And Germany is certainly one of them. But if you were not planning to check it off your bucket list just yet, let me persuade you to do the opposite. Here are the best 8 reasons why you should visit Germany at least once in your life.
1. Learn how to pronounce difficult German words.
Streichholzschächtelchen. Schlittschuhlaufen. Eichhörnchenschwanz. Geschwindigkeitsbegrenzungsüberschreitung. Looks intimidating, doesn't it? Even scary. I remember that feeling: every muscle on your face gets tense, your brain is ready to explode, your eyes are popping out… you open your mouth, preparing to utter that first German sound, you're ready, you're about to nail it, and, and, AND… you can't pronounce a thing! Your tongue just doesn't roll, so instead of looking fancy you're ending up with a stupid facial expression. And everybody around you is hissing, fizzing, whooshing, shishing, shnashing, shnoshing, and producing all kinds of 'sh'-based sounds. It's almost insulting. But when you say your first Ich möchte bitte einen Milchkaffee or Willst du mit mir Pfannkuchen essen? it feels like a real life achievement. Hell, even getting your university degree wasn't that difficult! So if you learn how to speak some German, you're prepared for anything, my friend.
2. Eat a real German bratwurst.
The power of wurst is seriously underestimated. You get addicted to wurst. You don't decide when you eat wurst – wurst decides it for you. Because when you see wurst, you just can't help yourself but eat it right away. It has this weird power over your whole system: your sense of smell gets more acute, you start salivating, your mind can't focus on anything else, and you lose all your newly-acquired German linguistic skills. Bratwurst is IT. And the real bratwurst can be found only in Germany. The best one, in my opinion, is in Leipzig, in the Universitätstrasse, next to Lehmann's book shop, and costs €1,70, and is worth every cent!!.
3. Drink beer at Oktoberfest.
Even if you're not a beer drinker, participating in Oktoberfest, which actually starts in September, is just one of those things you have to try in life. Oktoberfest is the world's biggest annual funfair with more than 6 million people coming from every corner of the world to celebrate it in Munich, Bavaria. People dress up in traditional clothes, sing, drink (you will probably witness some rowdy behaviour), and have fun.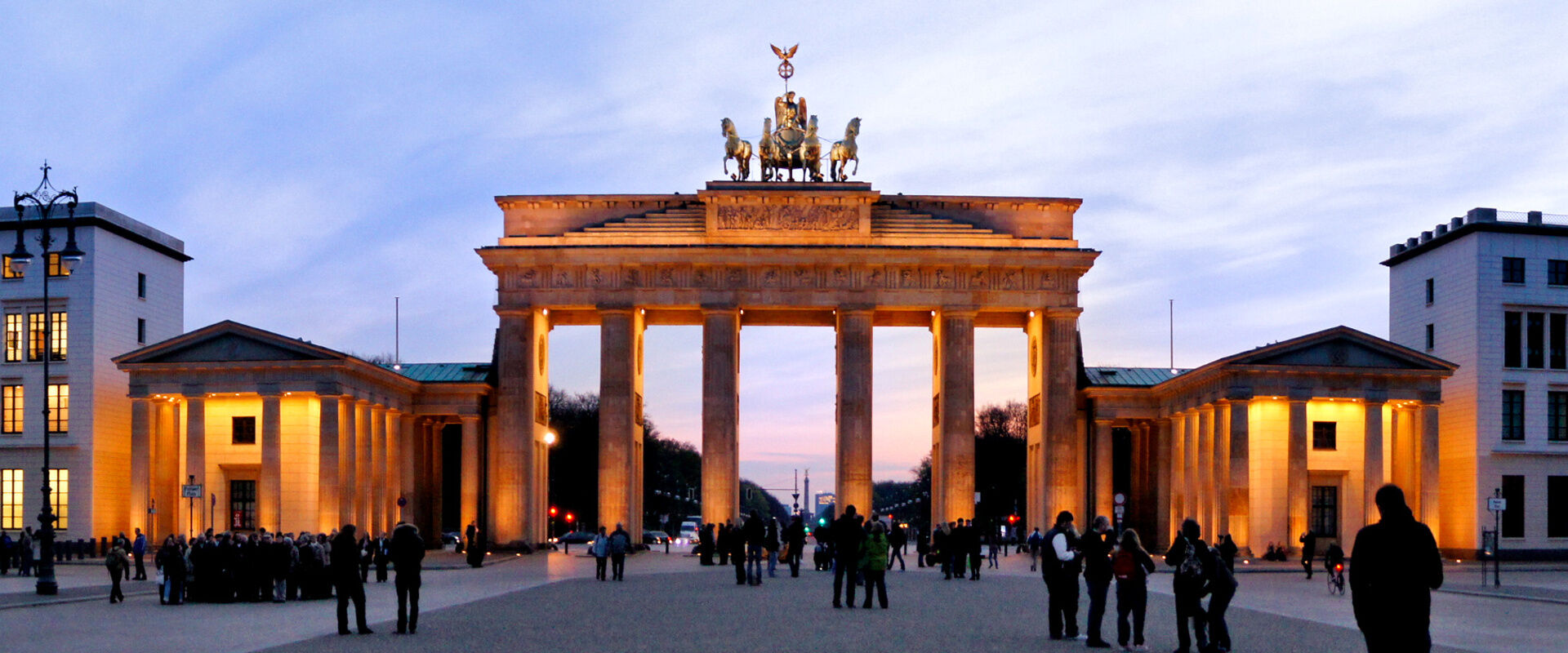 4. Travel in time.
Berlin is one of Europe's most modern and cosmopolitan capitals, and yet, just some two hours on a train, and you find yourself in the middle of a medieval town, where nearly every building is 600 years old, where there's no McDonalds, no advertising, and where the stones on the main road are older than your great-grandmother. Plunge yourself into a medieval adventure – explore castles, learn about some history, and feel like a knight (or a lady) from the Middle Ages!
5. Feel the difference.
You travel to the West – it's one world. You travel to the East – it's something completely different! People speak with different accents and have different attitudes, different behaviour, and different manners. Architecture is different (East Germany is still very Soviet). Life standards are different (Wessies are better off than Ossies). People have different values and standpoints… the list can go on and on. Germany is really like two countries in one – isn't that an amazing deal? Visiting Deutschland is a unique opportunity to experience the true meaning of cosmopolitanism and the true adherence to centuries-old traditions and historical values.
6. Find out what real bread should taste like.
German bread is the best in the world. End of discussion.
7. Drink Glühwein and Bananenweizen
Glühwein at winter, Bananenweizen throughout the whole year – that's how you drink it. And while Glühwein is also popular in Austria, Switzerland and the Czech Republic, Bananenweizen is an exclusively German invention made from wheat beer and banana juice. Absolute yumminess!
8. Visit the castles of Mad King Ludwig.
Once upon a time there was a young German king, who had a real passion for beauty. Or a real passion for spending money – that's what his ministers thought. Because who in their right mind would be okay with ruining the country's economy in order to build fairytale castles in completely unreachable locations in the middle of nowhere? A madman – that's what King Ludwig was, and that's how we remember him to this day. He was officially declared insane and then drowned under mysterious circumstances shortly thereafter. But his magnificent projects live on, having ironically become the main tourist attractions in Germany. The most famous castle of his is, of course, Neuschwanstein, but the Herrenchiemsee Palace and the Linderhof Palace are no less magnificent.
---
Even though Germany is one of the largest countries in Europe by both area and population and home to such incredible diversity, many travellers only manage to visit one or two cities on their travels. Here at WOW we've put together a list of the top 10 German cities you should consider adding to your itinerary to encourage you to see more that this country has to offer.
Berlin is not only Germany's capital and largest city, it is also the cultural hub of the nation. One of the most fascinating cities in Europe, Berlin is vibrant and edgy and is Germany's centre for fashion, art and culture. It's not surprising that Berlin is the most popular tourist destination in the country, with many visitors keen to learn about its turbulent political history as well as experience the energy of its world-renowned nightlife. To get the most out of your visit, be sure to check off these 20 must see Berlin attractions.
2. MUNICH (MÜNCHEN)
Munich is the wealthy capital of Bavaria and the gateway to the Alps. It is said to be one of the most beautiful and charming cities in all of Germany and is filed with museums and beautiful architecture. It is most famous for being the centre of Oktoberfest festivities, which attracts over 6 million visitors every year.
3. FRANKFURT AM MAIN
Frankfurt am Main is Germany's most international city and a major European hub thanks to its huge international airport. It is also the economic centre of Germany (and Europe for that matter), which is reflected in its towering skyscrapers; a feature that you'll find nowhere else in the country.
4. COLOGNE (KÖLN)
Having been founded by the Romans, Cologne is one of Germany's oldest cities and its beautiful architecture from various time periods reflects its long history. Stroll past old Roman towers, Gothic churches and then past the contrast of modern architecture. Don't miss a visit to Cologne Cathedral, which took 600 years to complete. A visit to the Chocolate Museum alone is worth making the trip here!
5. HAMBURG
Germany's second largest city, Hamburg, is located in the north of the country only a few hours from Berlin. It is a port city and boasts one of the biggest harbours in Europe. Strolling over its many bridges and canals makes it easy to understand why it has been nicknamed the 'Venice of the North'.
6. LEIPZIG
Leipzig is quickly developing the reputation for being the up-and-coming art capital of Germany and, aside from Berlin, is the most dynamic city in eastern Germany. This city was once one of Europe's art and cultural centres and today, cheap rents and a vibrant nightlife make it a favourite for young people. The impressive town centre boasts impressive Renaissance and Baroque architecture.
7. DRESDEN
Nestled prettily on the banks of the Elbe river, the baroque beauty of Dresden is unquestionable. Almost completely destroyed by bombing during WWII, it has been rebuilt splendidly to reflect its original magnificence. As the capital of Saxony, Dresden was once home to the kings and electors of this eastern German state. Today it is a very green city filled with parks and gardens.
8. NUREMBERG (NÜRNBERG)
Nuremberg is associated with gingerbread, Christmas and, perhaps most infamously, the Nuremberg trials that occurred after WWII. Yet, it is its gorgeous architecture that it should be most known for. Medieval fortifications still stand in its impressive old town as well as splendid Gothic churches and a colourful market square. Don't miss an inspiring visit to the hilltop castle during your stay
9. DÜSSELDORF
Often said to be Germany's answer to Milan, Düsseldorf is the fashion capital of the nation. While it might appear to be posh, modern and a little closed to outsiders, when you look under the surface you'll discover its great art scene as well as a pumping nightlife. The Düsseldorf Altstadt (old town) is even nicknamed "the longest bar in the world" because the historic, central district has over 300 bars and nightclubs concentrated in a small area! (Image by Francçois Philipp via Flickr Creative Commons)
10. BREMEN
Bremen has the reputation of being one of Germany's most hospitable cities. Located in the north of Germany, Bremen is a city that is over 1,200 years old and is bursting with history. The old town itself is like the backdrop to a fairytale and is one of Germany's 38 UNESCO World Heritage Sites. During the lead up to Christmas especially, the city becomes even more magical. (